Stephen Ministry

First Presbyterian Church of Clarks Summit is a Stephen Ministry congregation, providing Christ-centered care for those in need.
The Stephen Series from Stephen Ministries is a complete system for training and organizing lay people to provide one-to-one Christian care to hurting people in and around our congregation.
Stephen Ministers are members of our congregation who have received 50 hours of care-giving training in order to provide one-to-one caring ministry to people experiencing a crisis, facing a challenge, or going through a tough time. They meet with their care receivers – privately and confidentially – on a weekly basis to listen, care, encourage, support and remind them of Christ's presence in their lives.
Stephen Ministers are trained to help people facing a crisis or difficulty such as:
Loss of a loved one
Hospitalization
Divorce or separation
Loneliness or discouragement
Spiritual crisis
Unemployment or job crisis
A chronic or terminal illness
Incarceration
Aging
Birth, adoption, miscarriage or infertility
Relocation
Recovery after an accident or disaster
And many others
Stephen Leaders establish and direct Stephen Ministry in a congregation. They—
build awareness of Stephen Ministry within the congregation and community,
recruit and train Stephen Ministers,
meet with potential care receivers to assess their needs
match care receivers with Stephen Ministers,
provide Stephen Ministers with ongoing supervision and continuing education
People learn to serve as Stephen Leaders by attending a Leader's Training Course—a one-week conference that introduces the resources used to lead Stephen Ministry, develops key skills, and gets people excited about this caring ministry. Most congregations begin with two to four Stephen Leaders, typically including a pastor, possibly another church staff person, and one or more lay leaders.
If you or someone you know could benefit from the help and support of a Stephen Minister, or if you are interested in becoming a Stephen Minister, please call our Stephen Leaders:

Stephen Leaders:
Judy Cutler • Phone (570) 446-9310
John Conklin • Phone (570) 563-0211
Rev. William Carter • Phone (570) 586-6306
Meet Our Stephen Ministers
The following members of First Presbyterian Church, Clarks Summit, have completed 50 hours of training to become Stephen Ministers and are available to provide confidential Christian care to those in need:
Myrna Diven
Gwynne Gilbert
George Harris
Mick Wirth

If you are interested in becoming a Stephen Minister, we invite you to talk with any of our Stephen Ministers, or with Stephen Leaders Judy Cutler, John Conklin and Rev. William Carter to learn more about this Ministry and the training program.
Who Benefits from Stephen Ministry?
People Who Need Care . . .
• Receive quality, Christ-centered, confidential care for their hurts and needs.
• Find hope, healing, and a new sense of self-worth through the support of a Stephen Minister.
• Know they are remembered and supported by their congregation in times of personal difficulty.
• Receive ongoing care for continuing needs long after the onset of a crisis, when many others may have forgotten about them.
• Grow in a deeper relationship with God as they experience His unconditional love for them through their Stephen Minister.
Our Pastor . . .
• No longer shoulders the entire burden of caring in the congregation, as if the pastor were the only one able, willing, or called to do this ministry.
• Receives support and care from the lay people who are part of the congregation's Stephen Ministry Team.
• Reaches more members of the congregation with quality Christian care.
• Experiences renewed joy and satisfaction as others are equipped to extend the reach of his own ministry.
• Has more time to focus on the ministries that only the pastor can do.
Our Lay People . . .
• Discover, cultivate, and use the spiritual gifts with which they have been blessed.
• See themselves as active partners in the mission and ministry of the church.
• Find all aspects of their lives enriched by the distinctively Christian care-giving skills they learn and practice.
• Experience great joy as they see God working through them to bring hope and healing to a hurting person.
• Grow spiritually as they experience the Lord's loving presence in community with other Christian caregivers.
Our Entire Congregation . . .
• Discovers that many members want to be involved in meaningful ministry and will respond to the call to become a Stephen Minister or Stephen Leader.
• Becomes an even more loving community that is more sensitive and responsive to people's needs for care.
• Is able to provide more quality Christian care, so that fewer people slip through the cracks.
• Is able to reach out to the unchurched who are hurting and introduce them to the healing love of the Christ in their time of need.
• Sees itself as not only being served by the pastor, but as a caring body of believers actively involved in serving one another in love.
In early April 2010, the PBS "Religion and Ethics" news show aired an eight-minute feature on Stephen Ministry. Click here to view this feature on the PBS Web site.

Frequently Asked Questions About Stephen Ministry:
Why is it called Stephen Ministry?
It is named Stephen after one of the first persons commissioned by the Apostles to provide caring ministry (Acts 6).
How long has Stephen Ministries St. Louis been in existence?
Stephen Ministries St. Louis was incorporated as a not-for-profit religious and educational organization in 1975.
How many congregations are involved in Stephen Ministry?
More than 10,000 congregations worldwide are enrolled in the Stephen Series, with about 400 new ones enrolling each year.
How long does Stephen Ministry last?
It is designed to be a lasting ministry, which is why many churches now have had Stephen Ministry going strong for 15, 20, 25 or more years.
How does Stephen Ministry benefit pastors?
Stephen Ministry lifts some of the care-giving load from the shoulders of pastors, multiplies the amount of care congregations can provide and frees pastors to focus on ministry areas that only pastors can do. Pastors report great joy in seeing many more people receiving quality Christian care than they alone could ever reach. Many pastors also find deep satisfaction in "equipping the saints for ministry." (Ephesians 4:12)
How does Stephen Ministry affect existing ministries in the congregation?
Stephen Ministry complements and strengthens other ministries. When pastors, elders, deacons and other caregivers encounter people who need more focused, sustained, one-to-one care than they have time to provide, they can refer those persons to Stephen Ministry. In addition, many congregations use all or portions of Stephen Minister training to enhance the skills of their other caregivers.
Who are Stephen Ministers?
Stephen Ministers are lay people in the congregation who receive 50 hours of Christian caregiving training. Stephen Ministers typically have one care receiver at a time and meet with that person once a week for about an hour. In addition, they gather with their Stephen Leaders twice a month for supervision and continuing education.
What types of situations are Stephen Ministers trained to handle?
Stephen Ministers give one-to-one Christian care to individuals who are facing a wide variety of crises or life challenges, including people who are grieving, divorced or separated, terminally ill, unemployed, hospitalized, homebound, lonely or discouraged, experiencing spiritual struggles and more.
Are there times that a Stephen Minister should not be assigned?
Yes. Stephen Ministers work with individuals, not couples or families. In addition, Stephen Ministers are lay caregivers, not therapists or counselors, so they do not work in situations that require the skills of a helping professional. Part of their training is in recognizing when a person's needs exceed what is appropriate for Stephen Ministry and knowing when and how to refer those persons to a professional caregiver.
Curious about how big this ministry is? Here are some amazing numbers:
Enrolled congregations or other organizations
.
12,075
Additional countries with Stephen Ministry congregations
.
24
Denominations represented
.
170
Number of pastors and lay leaders trained as a Stephen Leader at a Leader's Training Course
.
66,708
Approximate number of people trained as a Stephen Minister in their church or organization
.
600,000+
If you or someone you know could benefit from the help and support of a Stephen Minister, or if you are interested in becoming a Stephen Minister, please call our Stephen Leaders:

Stephen Leaders:
Judy Cutler • Phone (570) 446-9310
John Conklin • Phone (570) 563-0211
Rev. William Carter • Phone (570) 586-6306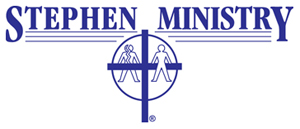 Click here to visit the Stephen Ministries website.