Welcome! We are glad you visited our online home.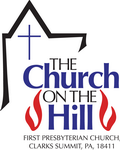 Welcome to the online home of First Presbyterian Church of Clarks Summit, PA – "The Church On the Hill." We are glad you have found the website of this lively, loving and faithful congregation. We invite you to click through our pages and discover why so many thoughtful Christians in our region make this church their spiritual home.
We are a congregation of the Presbyterian Church (USA) and have more than 500 members. Each week about 200 people attend worship and education, which makes us one of the largest Presbyterian congregations in Northeastern Pennsylvania.

We welcome all people to our church family.
Hot topics ...
Join us for worship on Christmas Eve

At 6:30 pm we welcome children and their families for a special service planned with them in mind. We sing our favorite carols and retell the Christmas story in a fresh and engaging way. This year, we hear advance reports that three Wise Men will visit us.
Our 9:00 pm service is a traditional Lessons and Carols service with our Adult Choir leading us in the singing of carols. Rev. Carter will preach, and we conclude by lighting candles to "Silent Night".
The 11:00 pm service is a joyful and informal jazz communion for Christmas. This year, we welcome Jeff Stockham on trumpet and French horn with the Presbybop Christmas Eve Band. It will be a great way to welcome the birth of Christ.
We will worship on Sunday, December 25, with a special Christmas Day communion service at 10:00 a.m.

Speaking of Advent, here are some special things you can do to make the season about God and Christ:

Read our Advent Devotional Blog online or pick up a printed copy from the Narthex
Partcipate in the Holiday Pajama Drive. Please return your gift to the Narthex as soon as possible. The deadline is December 11.
Watch the "Advent in Two Minutes" video on YouTube for a quick overview of the meaning of the season
Use the Busted Halo Advent Surprise Calendar. No peeking! Advent is about waiting.
Check our the Advent Conspiracy, one of Rev. Bill's favorite seasonal sites. It is a great way to subvert the superficiality of the season. You can download a Family Guide for table conversations about the deep meaning of Christmas.
Join us every week for worship
Take part in the adult weekly study groups on Wednesdays at 6:15 pm in room 206
Help somebody in need

January 1, 2017 is on a Sunday, and we will worship as usual at 10:00 am.
The 120-year old Presbyterian Mission Yearbook for Prayer & Study has become an online-only free digital resource. This move broadens the reach of the book's audience by sharing its inspiring content in a timelier manner and also demonstrates good stewardship of church resources.
The Mission Yearbook dates back to 1892 as a simple calendar of prayer to help women's societies pray for missionaries on designated days. It has the longest history of any denominational mission and prayer book in the United States.
St. Francis clothing center is in need of clean, gently used warm clothing for men and women. Specific needs include jeans, long sleeve shirts, sweatshirts, warm coats, new socks and underwear. Donations should be left in the box located in Fellowship Hall. The weather is changing, so we need to switch to cold weather clothes.
A great big thank you to everyone who participated in the Worship through Service program on September 25. See the video!
For Children ages 2 - 7 and their parents or grandparents are invited to a new adventure on Sunday mornings: Adventures in the Bible. -more-

The W.A.Y. is underway. Our Wednesday evening program of food, church school, and choirs, begins at 5:00 pm with a light supper (reservations requested). -more-
Fall is here, and our church-year activities are underway!

Adult Choir rehearsals are underway, at 7:15
Bell Choir rehearsals are underway, at 8:30 pm.
Chapel Choir rehearsals are underway, at 5:30 pm.
The W.A.Y. is underway

Rev. Carter's sermons are now available as podcasts. Listen here.
The next event in the Arts at First Presbyterian series is February 17. -more-

The 2015 Annual Report is available here. Reports for previous years are also available on our archives page.
Yaya is still here! Williamson Jacques, nicknamed, Yaya, the 2016-2020 Keystone College International Education and Peace Scholar arrived on January 1st. See how you can help. -more-

Thanks to the generosity of members and the community, $831.72 was raised in support of local missions through the Souper Bowl of Caring and the Chili Cafe Cook-off. Proceeds went the Bethel AME Shelter and the Abington Ecumenical Food Pantry. Thanks to all who participated.
The Mission and Justice committee has been busy. Check out their latest activies on the Mission and Justice page.


Going on vacation? Did you know that you can set up your on-line giving so your pledge goes to the church even if you can't. Click on the big green pledge button and and set up your periodic giving. Youcan also direct a gift to any program. Missions, music, youth programs, OGHS and the Deacon's Fund are just a few of the many programs that can use your gifts.
The Presbyterian Church (USA) is governed by its Book of Order. More than a mere "rule book," the Book of Order is a collection of wisdom, a statement of our church's values, and reasonable operating principles for how the church of Jesus Christ will do its work in the world. The Presbyterian Book of Order is available for downloading here.
Subscribe now to our weekly e-mail newsletter.
The Church on the Hill has many activities for all. If you're into music, if you want to provide support for others, if you want to enrich your Christian life, or if you just want to get out and meet people with similar interests, we have activities for all. Click here for a list of our activites to enhance your life within our church community.

---

On Sunday mornings, children ages 2-7 and their parents or grandparents are invited to a new adventure: Adventures in the Bible. The group will meet in room 111 from 9:00 - 9:45 a.m. Together, we will explore a Bible story, bring the story to life with a craft or activity, and sing songs of praise. If you have any questions, please contact the office at 570-586-6306. We look forward to welcoming you, so all can learn about the Bible and prepare for worship!

Check our Calendar for more upcoming events.