Welcome! We are glad you visited our online home.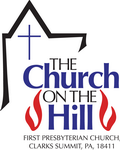 Welcome to the online home of First Presbyterian Church of Clarks Summit, PA – "The Church On the Hill." We are glad you have found the website of this lively, loving and faithful congregation. We invite you to click through our pages and discover why so many thoughtful Christians in our region make this church their spiritual home.
We are a congregation of the Presbyterian Church (USA) and have more than 500 members. Each week about 200 people attend worship and education, which makes us one of the largest Presbyterian congregations in Northeastern Pennsylvania.

We welcome all people to our church family.
Hot topics ...

Remember that April is Food Pantry Month! We love to feed the hungry. It's a sign of a healthy church. We collect for the AEM food pantry twice a year and they could really use our help as the pantry has seen an increase in need, serving 65-70 local families. ALL donations of non-perishable items (e.g. soup, pasta and pasta sauce, peanut butter) will be gratefully accepted. Please bring items to the narthex any time during the month of April. Thank you for your continuing generosity.
On April 24, we will have another tabletalk discussion. The dicussion will include food waste and its implications.
Check out our upcoming events, such a RailRiders game on April 26, and the Bike Ride on the Lehigh Gorge trail on June 11.
Thanks to the generosity of members and the community, $831.72 was raised in support of local missions through the Souper Bowl of Caring and the Chili Cafe Cook-off. Proceeds went the Bethel AME Shelter and the Abington Ecumenical Food Pantry. Thanks to all who participated.
The W.A.Y. is underWAY (get it!). Join us every Wednesday evening for food, Christian Education, and music. Details here.
Yaya is here! Williamson Jacques, nicknamed, Yaya, the 2016-2020 Keystone College International Education and Peace Scholar arrived on January 1st. See how you can help. -more-

Musicians welcome! Singers and ringers are always welcome. -more-

Adult choir - rehearses on Wednesdays at 7:15 pm
Chapel choir - rehearses on Wednesdays at 5:30 pm
Bell choir - rehearses on Wednesdays at 8:30 pm
Teens - We are now forming a teen choir! -more-

The Mission and Justice committee has been busy. Check out their latest activies on the Mission and Justice page.

Do you like to plan ahead? Our Fellowship Committee does, and they are already looking forward to next year's Church Picnic on August 13-14. Check it out here.

Going on vacation? Did you know that you can set up your on-line giving so your pledge goes to the church even if you can't. Click on the big green pledge button and and set up your periodic giving. Youcan also direct a gift to any program. Missions, music, youth programs, OGHS and the Deacon's Fund are just a few of the many programs that can use your gifts.
The Presbyterian Church (USA) is governed by its Book of Order. More than a mere "rule book," the Book of Order is a collection of wisdom, a statement of our church's values, and reasonable operating principles for how the church of Jesus Christ will do its work in the world. The Presbyterian Book of Order is available for downloading here.
Subscribe now to our weekly e-mail newsletter.
The Church on the Hill has many activities for all. If you're into music, if you want to provide support for others, if you want to enrich your Christian life, or if you just want to get out and meet people with similar interests, we have activities for all. Click here for a list of our activites to enhance your life within our church community.
---
Happening in April and beyond ...
Please join us for the annual SWB Rail Riders baseball game for Faith and Family night on April 26th at 6:35 PM. There is a signup sheet in the narthex and the deadline to sign up is April 3rd. The cost of the ticket is $5 each. Any questions, contact the church office.
Our third annual bike ride on the Lehigh River Gorge rail trail is set for June 11. We meet in White Haven, ride to Jim Thorpe for lunch, then shuttle back to White Haven. And it's all downhill! Contact the church office for details. There is a fee for the shuttle, but the ride is free.
It is never too early to start planning for the next church picnic and the church Fellowship Committee is already hard at work making plans. 2016 will again find us going to Camp Lackawanna. It will be held the weekend of August 13-14, 2016. Worship will be at the outdoor chapel at Camp Lackawanna on Sunday morning at 10:00 with a service in Clarks Summit as well. There will be hiking, canoeing, and just having a great time enjoying a beautiful spot in God's creation followed by a picnic provided by the church. In the past, we have reserved cabin and tent spaces for anyone who would like to come Saturday evening. We would have a simple supper and a camp fire with lots of singing and s'mores. The Fellowship Committee is now looking for a show of interest in the Saturday night activities. There will be a small fee to those using the cabins/tent sites and canoe rentals. Please contact the Church ofice at 570-586-6306 if you think you might be interested in the Saturday night activities and staying over night at the camp.
Check our Calendar for more upcoming events.