Welcome! We are glad you visited our online home.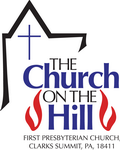 Welcome to the online home of First Presbyterian Church of Clarks Summit, PA – "The Church On the Hill." We are glad you have found the website of this lively, loving and faithful congregation. We invite you to click through our pages and discover why so many thoughtful Christians in our region make this church their spiritual home.
We are a congregation of the Presbyterian Church (USA) and have more than 500 members. Each week about 200 people attend worship and education, which makes us one of the largest Presbyterian congregations in Northeastern Pennsylvania.

We welcome all people to our church family.
Hot topics ...
Peace and Global Witness Offering - On October 2nd, "World Communion Sunday," we will bless our Peace and Global Witness offering [formerly titled The Peacemaking Offering]. -more-
For Children ages 2 - 7 and their parents or grandparents are invited to a new adventure on Sunday mornings: Adventures in the Bible. -more-

Confirmation Class - Is just starting. We will be offering a confirmation class this year for any student in grades 7-12 who is ready to dig deeper in their faith and learn what it means to belong to the church. -more-
The W.A.Y. is underway. Our Wednesday evening program of food, church school, and choirs, begins at 5:00 pm with a light supper (reservations requested). -more-
Fall is fast approaching, and our church-year activities are starting!

Adult Choir rehearsals are underway, at 7:15
Bell Choir rehearsals are underway, at 8:30 pm.
Chapel Chior rrehearsals are underway, at 5:30 pm.
The W.A.Y. is underway

Rev. Carter's sermons are now available as podcasts. Listen here.
The first event in the Arts at First Presbyterian series is October 16. -more-

The 2015 Annual Report is available here. Reports for previous years are also available on our archives page.
Yaya is still here! Williamson Jacques, nicknamed, Yaya, the 2016-2020 Keystone College International Education and Peace Scholar arrived on January 1st. See how you can help. -more-

Thanks to the generosity of members and the community, $831.72 was raised in support of local missions through the Souper Bowl of Caring and the Chili Cafe Cook-off. Proceeds went the Bethel AME Shelter and the Abington Ecumenical Food Pantry. Thanks to all who participated.
The Mission and Justice committee has been busy. Check out their latest activies on the Mission and Justice page.


Going on vacation? Did you know that you can set up your on-line giving so your pledge goes to the church even if you can't. Click on the big green pledge button and and set up your periodic giving. Youcan also direct a gift to any program. Missions, music, youth programs, OGHS and the Deacon's Fund are just a few of the many programs that can use your gifts.
The Presbyterian Church (USA) is governed by its Book of Order. More than a mere "rule book," the Book of Order is a collection of wisdom, a statement of our church's values, and reasonable operating principles for how the church of Jesus Christ will do its work in the world. The Presbyterian Book of Order is available for downloading here.
Subscribe now to our weekly e-mail newsletter.
The Church on the Hill has many activities for all. If you're into music, if you want to provide support for others, if you want to enrich your Christian life, or if you just want to get out and meet people with similar interests, we have activities for all. Click here for a list of our activites to enhance your life within our church community.

---

Happening in September and beyond ...

Mark your calendars for our churchwide Worship Through Service Day to be held on September 25, 2016. Our Session committees, the Deacons, and other groups within the church are choosing and planning several activities and projects to allow all ages and abilities to participate in community service. Each church member will be able to work on an activity particularly of interest to him/her. We will all work together to serve others, living our faith, following Jesus' example. Plus, you'll receive a special church t-shirt to wear that day. Watch for more information as the planning continues. Check out the details at our Worship Through Service page.

On Sunday mornings, children ages 2-7 and their parents or grandparents are invited to a new adventure: Adventures in the Bible. The group will meet in room 111 from 9:00 - 9:45 a.m. Together, we will explore a Bible story, bring the story to life with a craft or activity, and sing songs of praise. If you have any questions, please contact the office at 570-586-6306. We look forward to welcoming you, so all can learn about the Bible and prepare for worship!
The Peace and Global Witness Offering, formerly the Peacemaking Offering, exists to ignite Presbyterians in their Christian response to violence in our world toward making a more peaceful world. On October 2nd, "World Communion Sunday," we will bless our Peace and Global Witness offering [formerly titled The Peacemaking Offering]. Your Mission and Justice Committee has determined that 25% of this offering will go to The Catharine MacAuley Center, a local organization that directly ministers "to women and to the economically poor; to provide temporary shelter for women and children in crisis; to assist women in attaining safe, affordable, permanent housing; to provide women support services leading to selfreliance; and to help individuals and families access medical and community resources."

Check our Calendar for more upcoming events.