Welcome! We are glad you visited our online home.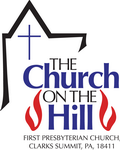 Welcome to the online home of First Presbyterian Church of Clarks Summit, PA – "The Church On the Hill." We are glad you have found the website of this lively, loving and faithful congregation. We invite you to click through our pages and discover why so many thoughtful Christians in our region make this church their spiritual home.
We are a congregation of the Presbyterian Church (USA) and have more than 500 members. Each week about 200 people attend worship and education, which makes us one of the largest Presbyterian congregations in Northeastern Pennsylvania.

We welcome all people to our church family.
Hot topics ...
Director of Music needed

- The Church on the Hill is looking for a Director of Music to lead the church's music program into the future. Interested individuals should contact the office. The job description is available here.
Join us on August 2 to celebrate the carreer of our departing Director of Music, Susan Kelly. Sue is moving on to run a collegiate music program in Memphis, Tennessee. Her shoes will be hard to fill.
Vacation Bible School is over. Thanks to all of our volunteers who made this year's program a success. We hope to see you again next year.
Going on vacation? Did you know that you can set up your on-line giving so your pledge goes to the church even if you can't. Click on the big green pledge button and and set up your periodic giving. Youcan also direct a gift to any program. Missions, music, youth programs, OGHS and the Deacon's Fund are just a few of the many programs that can use your gifts.
St. Francis Soup Kitchen is accepting gently used men's and women's lightweight clothing. Place your donations in the box in Fellowship Hall.
Presbyterians were recently in the national news. -more-
The Presbyterian Church (USA) is governed by its Book of Order. More than a mere "rule book," the Book of Order is a collection of wisdom, a statement of our church's values, and reasonable operating principles for how the church of Jesus Christ will do its work in the world. The Presbyterian Book of Order is available for downloading here.
Souper Bowl Sunday was a super success. We were able to give $405 to the AEM Food Pantry. Thanks to everyone who contributed.
The annual meeting of the congregation and corporation was held on Sunday, February 1, 2015. This year's annual report is available here.
Subscribe now to our weekly e-mail newsletter.
The Church on the Hill has many activities for all. If you're into music, if you want to provide support for others, if you want to enrich your Christian life, or if you just want to get out and meet people with similar interests, we have activities for all. Click here for a list of our activites to enhance your life within our church community.

The Presbyterians were in the national news this week. On March 17, the 86th presbytery ratified a proposed change in the denomination's Book of Order. This change amends the church's constitution, broadening Christian marriage from being between "a man and a woman" to "two people, traditionally a man and a woman." Here is an article in the New York Times on the decision (one of the fairest reports thus far).

As you may expect, Presbyterians are people who hold diverse opinions, but generally we believe it is more important to stay together in our diversity than to sever the Body of Christ. Hence there are many perspectives on this matter within our fellowship, although there is great consensus on the power of love and the importance of lifelong commitment.

Want to talk about this? The pastor's door is always open and he welcomes a conversation, especially if you buy the coffee. There is also an excellent study that the national church put together that is available for download. Feel free to give it a look.
---
Happening in July and beyond ..

Check our Calendar for more upcoming events.