Welcome! We are glad you visited our online home.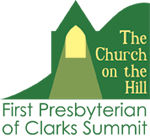 Welcome to the online home of First Presbyterian Church of Clarks Summit, PA – "The Church On the Hill." We are glad you have found the website of this lively, loving and faithful congregation. We invite you to click through our pages and discover why so many thoughtful Christians in our region make this church their spiritual home.
We are a congregation of the Presbyterian Church (USA) and have more than 500 members. Each week about 200 people attend worship and education, which makes us one of the largest Presbyterian congregations in Northeastern Pennsylvania.

We welcome all people to our church family. Check out our "how to join" page for more information.
Hot topics ...
Sunday is Souper Bowl Sunday. Yes, that's spelled correctly. This is the day we will be collecting money to support the Abington Food Pantry, which helps feed those who have trouble affording food. Bring a little extra for the (empty) soup pots outside the sanctuary. For more information, check out the Souper Bowl website.
The annual meeting of the congregation and corporation will be held on Sunday, February 1, 2015. This year's annual report is available here.
The next Arts at First Presbyterian event will be on February 16 - 18. -more-
Good news from Haiti! The support from FPC has provided training and seed capital for loans to emerging cooperatives in Haiti. Read the complete report from Groundswell International.
Vacation Bible School dates have been announced - July 13 - 17, 2015.
St. Francis Kitchen needs winter clothing for those in need in the community. Bring clean, warm clothes to the box in Fellowship Hall.
Bethel Homeless Shelter is in need of the following items: sugar, powdered creamer and powdered milk, coffee, tea, instant iced tea, breakfast bars, packets of instant oatmeal, and individual snacks. You can place donations in the Narthex.
Pledge on-line is now available at the Church on the Hill. See the big green button above.
Subscribe now to our weekly e-mail newsletter.
The Church on the Hill has many activities for all. If you're into music, if you want to provide support for others, if you want to enrich your Christian life, or if you just want to get out and meet people with similar interests, we have activities for all. Click here for a list of our activites to enhance your life within our church community.
Our national church's General Assembly met recently in Detroit. Here are a few of the summaries from the meeting, which you may find interesting:
---
Happening in January and beyond ..

January 30 - Cosmic bowling for youth grade 4 and up, starting at 8:30 pm.
February 1 is the date for the 2015 annual meeting, following worship.
February 13 - 16 - The next events in the Arts at First Presbyterian series will feature juggler Rob Smith, a photography exhibit, Abington Piano Academy students, a special wedding-vow-renewal service on Saturday, the best Chili around at Saturday's Chili Cafe, and a special Mardi Gras jazz worship service on Sunday.
February 28 - This year's Janson Lecture will feature Beth Tanner. Dr. Tanner is a professor of Old Testament at New Brunswick Theological Seminary. Registration is $10.00, which covers a warm lunch. Dr. Tanner will also be preaching on March 1.
Check our Calendar for more upcoming events.