Christian Education
We at First Presbyterian Church value our Christian Education programs. With the coronavirus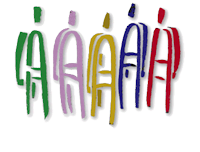 pandemic, our programs will take on a new look.
"Wednesday Adults and Youth Christian Education - W.A.Y." While the W.A.Y. program is not in full force, we still have educational offerings available. Registration, although not mandatory, would help us prepare. Register here.
Wednesday Bible Study
Rev. Carter will lead a weekly one hour video-conference Bible study on Wednesdays at 6:15 pm. Starting on September 9 and through November 18, he will lead an exploration of the text for the upcoming sermon. -Join via Zoom-
Monday evening Spiritual Practices conversation
A six-week study on Spiritual Practices. Every Monday from September 14 through October 19, between 7:00 pm and 8:00 pm, using materials from The Thoughtful Christian. Study material will be sent via the Light from the Hill each week, with a facilitated discussion on Zoom each Monday. -Join via Zoom-
Sign up here to receive the Light from the Hill.
Wednesday evening study
Just in time for the election: Rev. Dr. Brent Eelman will lead a Zoom-based class on Civility: A Christian Discipline. It will meet on three Wednesdays (10/21, 10/28, 11/4) at 7:15 p.m. -Join via Zoom-
Youth Activities
Grace & Faith: Children age 4 to grade 5 will have a weekly lesson from our Growing in Grace & Gratitude curriculum. We will post a short video, downloadable worksheets, and more at fpccsway-grace.blogspot.com for you to enjoy whenever fits best in your schedule.
We Believe: Youth grade 6 and up can visit fpccsway-believe.blogspot.com for a weekly post featuring a Bible passage, reflection, and questions to ponder.