Christian Education
We at First Presbyterian Church value our Christian Education programs. With the coronavirus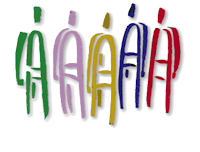 pandemic, our programs will take on a new look.
"Wednesday Adults and Youth Christian Education - W.A.Y."
The Christian Education committee is excited to offer in person classes for the WAY this fall. All classes meet from 6:15 to 7:15 each Wednesday, except November 24.
Youth Activities
Grace & Faith (4 yrs - Grade 5): Join us for a combined music and CE class! Children will hear stories from the Bible and learn about God's amazing love for them while also singing classic children's Bible songs. Make a joyful noise to the Lord as you grow in grace and faith! Meets in Room 108.
We Believe: This fall, students will explore a unit called Knowing God, answering questions about who God is and who we are as Christians. In September, we will answer: What do Christians believe in? Is it okay to have doubts about God? Who Can be Saved? Meets in Room 209.
Adult Classes
Adults: Mark's Clueless Disciples - Does it ever feel like we are just stumbling around in our attempts to follow Jesus? If so, it might be consoling to know that that's how the disciples appear in the Gospel of Mark. They just don't get it! Mark's Gospel warns us that it isn't easy to follow Jesus. We will make mistakes. This gospel is meant to encourage us by showing us what being a disciple of Jesus really means. In this 5-week study we'll follow Peter's and the other 11 disciples' foibles and follies sequentially through Mark's 16 chapters, hoping to get to know them, ourselves, and Jesus all the better. And, Rev. Carter will be preaching on Mark, so Wednesday and Sunday will relate. Meets in Room 206.