1922 Moeller Organ, Opus 3407
Stops and ranks
Sunday, October 30, 2022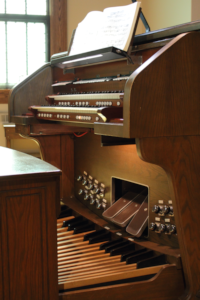 We celebrate our pipe organ's 100th birthday! The organ was built by M. P. Moeller Pipe Organ Company, Hagerstown, MD. The 20th anniversary bulletin notes that the pipe organ was installed in 1922 "by the efforts of Mr. and Mrs. P. C. Wroe and MacDonald Heebner".
In 2000, the 9 rank instrument was enlarged with Walker digital stops and moved to its present location in the attic (behind the cross above the choir). The prelude was written by a composer living and writing when the instrument was built and installed.
This service of worship on October 30 features:
Prelude: Toccata Gaston Belier (1863-1938)
Offertory: Andante Tranquillo from Sonata III Felix Mendelssohn (1809-1847)
Postlude: Cwm Rhondda arr. Paul Manz (1919 - 2009)
The organist for the church's 20th anniversary in 1932 chose Mendelssohn pieces so it seems fitting to include a work by Mendelssohn this morning. The postlude is a homage to the people of this congregation who have lovingly maintained the instrument throughout its 100 years.
Original instrument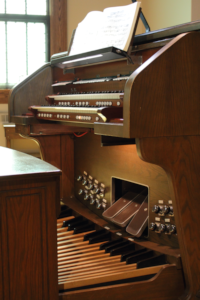 Two manuals, nine ranks
Moved and enlarged in 2000
Two manuals, ten ranks, Walker digital stops
Swell
8' Geigen Principal
8' Rohr Gedeckt
8' Salicional
8' Vox Celeste
8' Flauto Dolce II
4' Principal
4' Harmonic Flute
4' Salicet
2 2/3' Nasat
2' Italian Principal
2' Flageolet
1 3/5' Tierce
III Plein Jeu
8' Trumpet
8' Oboe
8' Vox Humana
Tremolo
Swell to Swell 16' ▪ Swell Unison Off ▪ Swell to Swell 4'
Great
8' Diapason
8' Bourdon
8' Harmonic Flute
8' Gamba
8' Gamba Celeste
8' Dolce Celeste II
4' Octave
4' Rohr Flute
2' Fifteenth
8' Trumpet
4' Clarion
Tremolo
Chimes
Great to Great 16' ▪ Great Unison Off ▪ Great to Great 4'
Swell to Great 16' ▪ Swell to Great 8' ▪ Swell to Great 4'
Pedal
32' Contra Bourdon
16' Bourdon
16' Leiblich Gedeckt
16' Dulciana
8' Prinicpal
8' Bass Flute
8' Gedect
4' Choral Bass
16' Trumpet
4' Oboe
Great to Pedal 8' ▪ Great to Pedal 4'
Swell to Pedal 8' ▪ Swell to Pedal 4'