Advent and Christmas at the Church on the Hill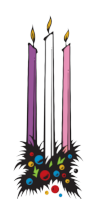 Christmas is nearly here. At the First Presbyterian Church, we have a varied program of Advent and Christmas worship and outreach opportunities for members and our community.
Daily Advent Devotions - Again this year, our Advent Devotional will be available, in a printed version. It will be available on or after November 20 at the church or here on the website. - Download now -
---
Advent bags for households will be available from the Christian Education committee by November 20, and can be picked up at the church.

---
Advent events and activities

Please join us for worship and our other Advent and Christmas activities:
November 27 - First Sunday of Advent - Romans 13:11-14 - Staying Awake for Christmas
December 4 - Second Sunday of Advent - Romans 15:4-13 - Hoping for Christmas
December 4 after worship - Advent family event, with food and fellowship as we celebrate the season.

December 9 - We will hold a

Parent's Night Out

, Friday, December 9, 5:30 to 8:30 p.m. We watch the kids - you get a night out!
December 11 - Third Sunday of Advent - James 5:7-10 - Being Patient for Christmas
December 18 - Fourth Sunday of Advent - Matthew 1:18-25 - Expecting Christmas
December 20 - We offer a Blue Christmas service at 7:00 p.m. for all who are weary, sad, or grieving. The service will take place in the church sanctuary and will be live-streamed. -more-
December 24- Christmas Eve -

4:00 pm - A service for families. We invite all the young-at-heart to the sanctuary for a spirited and joyful celebration of Jesus' birth. This will be a simple service to get to the heart of Christmas. We will sing favorite carols, hear a creative message for all ages, and light candles for "Silent Night."
8:00 pm - Lessons and carols. This will be the "Singing Service," based on the famed Christmas Eve service at King's College Chapel, University of Cambridge. Tune up your vocal cords and join us as we sing nine carols to celebrate the birth of our Lord.

December 25 - Yes, Christmas is on a Sunday. Here is your chance to sing more Christmas carols, and to welcome the newborn King on the Lord's Day.
---