Advent and Christmas at the Church on the Hill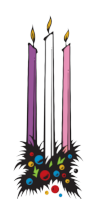 Christmas is nearly here. At the First Presbyterian Church, we have a varied program of Advent and Christmas worship and outreach opportunities for members and our community.
---
Advent bags for households are available from the Christian Education committee, and can be picked up at the church.

---
Advent events and activities

Please join us for worship and our other Advent and Christmas activities:
December 2, 10:00 am - Join in and help decorate the sanctuary for the season.

December 3 - First Sunday of Advent - Mark 13:24-37 - Wake Up! The Beginning is Near
December 3 - Intergenerational Advent program and lunch.

December 10 - Second Sunday of Advent - Isaiah 40:1-11 - The Man With a Crooked Finger
December 17 - Third Sunday of Advent - Isaiah 61:1-4, 8-11 - Not Me, It's Him!
December 18 - We offer a Blue Christmas service at 7:00 p.m. for all who are weary, sad, or grieving. The service will take place in the church sanctuary and will feature music from Taize. This service will be live-streamed. -more-
December 24 - Christmas Eve & Fourth Sunday of Advent


10:00 am - Christmas Pageant for All Ages. We invite all the young-at-heart to the sanctuary for a spirited and joyful celebration of Jesus' birth. This will be a simple service to get to the heart of Christmas. We will sing favorite carols, hear a creative message for all ages.

and light candles for "Silent Night.

8:00 pm - Lessons and carols. This will be the "Singing Service," based on the famed Christmas Eve service at King's College Chapel, University of Cambridge. Tune up your vocal cords and join us as we sing nine carols to celebrate the birth of our Lord.

December 31, 10:00 am - Prepare for the new year. Rev. Carter will preach on Galatians 4:4-7; Simeon at the Last Minute.
---